WORKSHOPS

I'm available for 1, 2 or 3 Day Workshops in your area for the landscape (plein air or studio) and still life in Pastel and Oil. Workshop goals focus on developing observation skills by always painting from life - If you can see it, you can paint it! First considered is a strong composition - breaking down a painting into its simple abstract shapes and values, knowing what to put in and what to leave out. The Color Elements (value, temperature and intensity), along with edges, are addressed to paint form and descibe light, shadow and mood. Learn how to create vibrant color through color mixing and underpainting techniques.
Plein air painting will teach students to see accurately, paint quickly, as well as enhance painting skills used in the studio. Demonstrations, handouts, and personalized instruction are used to help take each student's work to the next level. Demonstrations are done in oil and pastel, but the principles taught are applicable to any medium.
Mornings will consist of a short talk on core art principles and a demonstration. In the afternoon students will paint with personal attention at their easels.
1 Day Mini-Workshops can zero in on excercises focusing on 1 principle such as: Composition, Value & Form, Color, or How to Work Succesfully from a Photo. Contact me to design a workshop to meet your needs.
Private Lessons
I can also accommodate private students in my home/studio. If you'd like more info on personal study sessions to meet your specific growth needs at your own pace - Call me at 586-336-9693 or e-mail at srwartist@comcast.net
Sign up for my E-mail newsletter to be informed of future Workshops!
Materials List


For All Workshops:

Small sketchbook for thumbnail value compositions.

Soft pencil 4B - 6B & kneaded eraser

Viewfinder (small rectangle opening cut out of mat board or 2 right angles clipped together or even an empty slide)

For Plein air Workshops:

Portable easel or Pochade Box W/ tripod. Or some sort of portable easel/palette setup. No table easels.

Clamp-on umbrella to shade both palette and painting surface. (optional)

A billed cap, brimmed hat, or a visor. A must!

Plastic grocery bags for towel disposal.

Insect repellent.

sunscreen.

Water & lunch.

Something to carry everything in. A backpack with wheels works great.

folding chair

dress in layers to stay warm or cool
Pastels
§ Sanded pastel paper such as Wallis or U-art. "U-Art" sanded paper can be purchased from instructor. 12''x18" sheet for $5.00 each. Good for (2) 9"x12" paintings.



Foam core or support board to tape or clip paper to.
Hard (NuPastels) and Soft pastels in a variety of colors, tones, and tints. (Rembrandt makes sets with half

sticks)

The more pastels the better!

Old oil brush (for Turp. washes)
Rag or paper towels

Odorless

turpentine, odorless mineral spirits or acetone in a non-breakable sealed container.
Oils
Palette - disposable or permanent is fine. At least 9x12 in size

Palette knife (metal, not plastic)

Odorless

turpentine or odorless mineral spirits in a non-breakable sealed container. Water and container if using water-soluble oils.

2-3 Canvases (stretched or board) 8"x10" to 9"x12" max.

The suggested palette below is my personal palette. Any brand you like if fine. (I use a water-soluble oil – with them, I recommend Holbein brand.) At the very least, have a warm & cool of each of the primaries, plus white (or the first 7 colors listed).
Cadmium Red
Alizarin Crimson
Cad. Yellow light
Cad. Yellow
Cobalt blue
Ultramarine blue
Titanium white
Viridian
Yellow ochre
Burnt Sienna
Brushes - Several oil brushes - flats, brights, or filberts in a variety if sizes between #4 - #14.
A larger brush and a smaller round can be useful too.
Rags or paper towels

Oil medium such as "Liquin" or a Water mixable medium for water soluble oils - optional.
A good priced local art supply is Utrecht. www.utrecht.com . Other online resources are www.dakotapastels.com, www.dicklick.com , www.cheapjoes.com or www.jerrysartarama.com.
Raymar panels, www.raymarart.com
Pochade boxes & tripods. EasyL by Artwork Essentials www.artworkessentials.com or the Open M Box. www.openboxm.com

Any questions? E-mail me at srwartist@comcast.net or through my Website: www.sharonwill.com


PHOTOS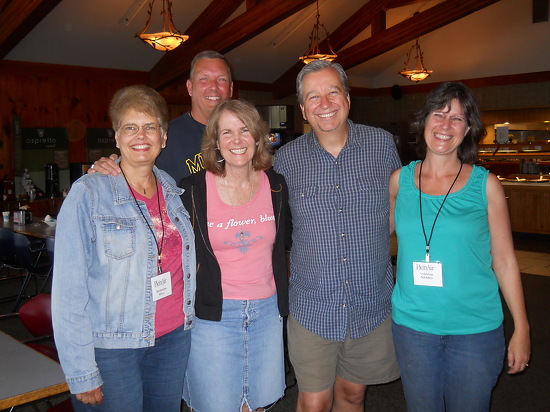 Painting in the the Adirondacks. From left: Me, Karen Blackwood, Publisher-Eric Rhoads, Vianna Szabo, & back, Bruce Newman.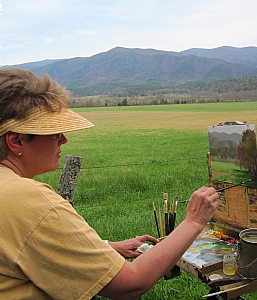 Painting in Cades Cove, Smokey Mountains
My painting buddy Vianna Szabo and I painting at Brandywine Falls, Ohio www.viannaszabo.com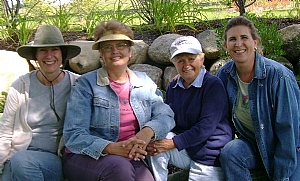 More "plein air painting buddies". Left to right:Vianna Szabo, Me, Marianna Defer-Pfiefer and
Barbara Reich. www.barbarareichstudio.com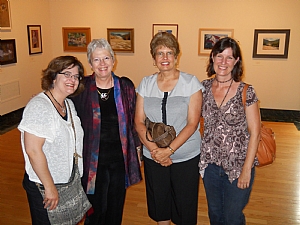 IAPS 2010 opening at The Butler Institute of American
Art. Left to right: Ann Hevener (Editor of Pastel Journal Magazine), Maggie Price (IAPS President), me, and Vianna Szabo.



Master Circle recipients at the IAPS Convention 2011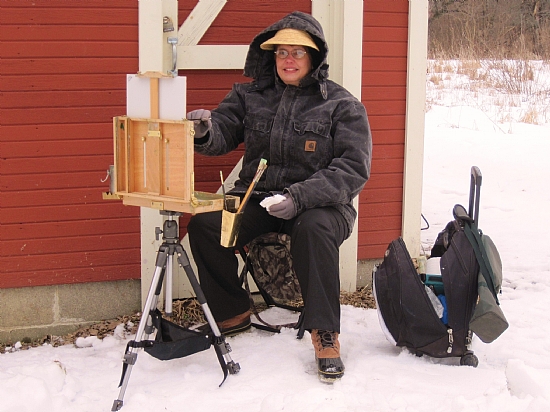 A winter plein air session!

LINKS
My Prints - www.FineArtAmerica.com/profiles/sharonwill.html
The Great Lakes Pastel Society
International Association of Pastel Societies
Oil Painters of America
American Impressionist Society, Inc.
Absolute Michigan - All Michigan, All the Time